Solve the Riddle of Arthritis and Dance away from Joint Pain
Each one is a humbling walk in pain. Arthritis literally means "inflammation of a joint."
The inflammation results in swelling, stiffness, redness and a great deal of nagging, constant pain. Any place where the bone meets bone is a potential spot for the grinding agony of arthritis. The first sign is often a twinge in your fingers, knees, shoulder or back.
What is causing that twinge?
THE CARTILAGE – THE NATURAL SHOCK ABSORBER THAT CUSHIONS THE INSIDES OF YOUR JOINTS – IS STARTING TO BREAK DOWN ONE TWINGE AT A TIME.
Doctors used to think of this gradual cartilage breakdown as a condition of old age, but now believe that osteoarthritis – the most common of about 100 different types of arthritis – begins its relentless course when you're in your 30s, 20s and even younger.
At present, doctors believe that osteoarthritis hurts more than 20 million Americans. By 2020, that number is expected to reach 40 million.
Why are the numbers skyrocketing?
6 OUT OF 10 AMERICANS SUFFER FROM OBESITY AND…
All this extra weight is squeezing the cartilage out of the joints. With every step you take, your moving body puts pressure roughly equal to 3 times your weight on the knees and hips. As the cushion of cartilage grows progressively thinner, the bones begin to grind against one another.
Each year doctors in the U.S. alone perform…
270,000 knee replacements, which routinely offer NO permanent relief
170,000 painful and costly hip replacements which is a very dangerous procedure because of the risk of blot clotting, infection and stroke.
Worse yet…Studies show that 97% of people over 60 have an arthritis condition.
IF you want to dance away from arthritic pain…
IF you want to beat the statistics and not become one of the millions who are hobbled by arthritic pain and inflammation…
IF you want a lot less discomfort and a whole lot more fun in your daily life, then…
You owe it to yourself and your loved ones to try Terrafreeze Extra Strength Pain Relief Cream.
TERRAFREEZE is a strong Over-the-counter (OTC) pain relief cream that works, and will provide you with real relief. Most pain relief creams on the market give you one or two pain relievers, but with TERRAFREEZE™ you get the benefit of over 12 tested pain relievers. Terrafreeze™ contains 3 of the most powerful active ingredients (Menthol, Methyl Salicylate and Histamine Dihydrochloride) proven to bring soothing relief from aching muscles and joints. In addition to these 3 powerful active ingredients, we have added Emu Oil and Arnica Montana for enhanced relief and healing. Proven safe for daily use – even multiple times per day. Your relief may even get better with repeated use…It's that Great!***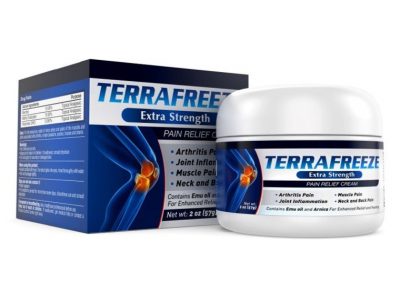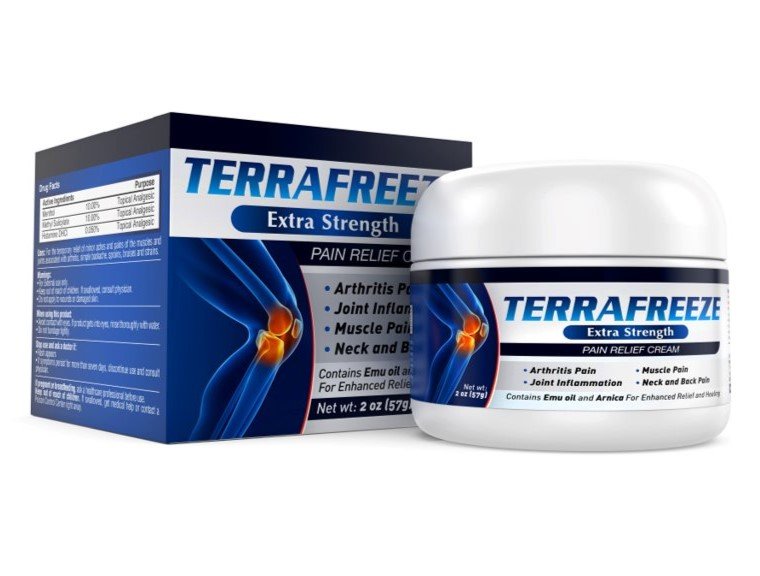 If it's not everything we say it is (and a whole lot better), simply return the jar within 90 days for a full refund. No questions asked.