Experiencing stiffness in your joints when you wake up in the morning or finding it difficult to move and engage in the things you love, are just a few of the frustrations those suffering from arthritis experience.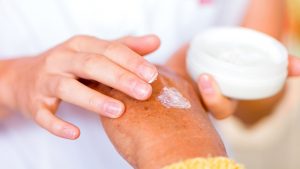 There is no doubt that arthritis affects every aspect of your life and negatively impacts your quality of life.
Finding a proper treatment plan that will work for you can be a herculean task, especially if you are the type that doesn't want to depend on pain relievers.
A lot of people who have arthritis are relieved of their pain by using topical ointments and creams. In fact, one can find numerous products available for the treatment of arthritis.
And that makes it hard to choose the one that will work best for you.
The fact is, it would require you trying out various creams before you found the one that suits you, but once you did, you'd have a lasting solution for pain relief. And could get back to living your life without being held back by pain.
Zostrix Arthritis Cream:

It contains an active ingredient called capsaicin, which helps to reduce the level of some chemicals that transmit pain impulses.

Bengay Arthritis Cream:

A very popular cream, it provides temporary relief for muscle and joint pain using methyl and menthol salicylate.

Aspercreme:

It has trolamine salicylates as its active ingredient. It helps to relieve the pain that is related to muscle sprains, strains, backaches, and arthritis.

Icy Hot:

It also has menthol and methyl salicylates. Icy Hot will initially ice the affected area to relieve the pain before warming the area to help the pain diminish

Tiger Balm:

It is a herbal remedy and uses a combination of menthol, clove oil, cajuput oil, and camphor to relieve joint pain and muscle aches.
Those mentioned above are just a few of the many pain-relieving creams that are available for arthritis pain. Some are produced to provide immediate but temporary relief while the impacts of others work slow. Some have an unpleasant smell while others can be oily and greasy on the skin. Deciding what works best for your arthritis pain is a personal choice.
Those who do not wish to rub a cocktail of synthetic chemicals on their body, choose a pain relief cream that contains natural ingredients. One that uses nature's most powerful pain relievers to beat pain without the side effects of chemicals. I personally only feel satisfied using a pain relief cream that is made of all natural ingredients.
It is for this reason that I created a pain relief cream that is both safe and effective. It took years of thorough research and study to produce the most advanced pain relief cream. Clinically tested to improve the body's mobility and function, reduce inflammation and help relieve pain quickly.
It is made from all natural ingredients that won't cause you harm, and the feedback from our customers has been nothing short of amazing. It is called Terrafreeze™. You can find out more about the cream here.