Home Remedies for Muscle Strains
What is a muscle strain?
Muscle strain, muscle pull, or even a muscle tear refers to an injury of a muscle or its connecting tendons. It can happen when you put undue pressure on muscles during normal daily exercises, with sudden heavy lifting, during sports, or while performing work tasks.
What are the Symptoms of Muscle Strain?
Symptoms of muscle strain include:
Swelling, bruising, or redness due to the injury
Pain in the affected area at rest
Pain when the specific muscle or the joint in connection to the muscle is used
Weakness of the muscle or tendons
Inability to use the muscle at all
When to See a Doctor
If you have a significant muscle injury (or if home treatment brings no relief in 24 hours), call your doctor.
If you hear a "popping" sound with the injury, you're unable to walk, or there is significant swelling, pain, fever, or open wounds, you should seek immediate emergency medical attention.
Exams and Tests
The doctor will review your medical history and conduct a physical exam. Amid the exam, it's critical to establish whether the muscle is partially or completely torn, which can implicate a longer recuperating process, possible surgery, and a more complicated recovery.
X-rays or lab tests are often not necessary, unless there was a history of trauma or evidence of infection.
How can you prevent muscle strains?
Avoid muscle injury by stretching daily.
Before starting an exercise program consult with your doctor.
Stretching after any exercise.
Do a warm-up routine before strenuous exercise, like running in place for a few minutes.
Muscle Strains Treatments
Treatment
Medical treatment for Strains is self-care treatment at home. The doctor, however, can decide the degree of muscle and tendon injury and if crutches and/or a brace is required for the recovery process. The doctor can likely decide whether you have to limit your movement or take days off work and if restoration practices or physical therapy are needed to help you recover.
The doctor may prescribe NSAIDS, like naproxen or ibuprofen to diminish pain and enhance your ability to move around. Do not take NSAIDS if you have kidney problems or a background marked by gastrointestinal bleeding or if you are taking a blood thinning medications without consulting with your doctor.
Exercises that may increase muscle pain or work the affected body part are not suggested until the pain has significantly decreased.
Muscle Strain Treatment at Home
Most muscle strains can be successfully treated at home with PRICE Formula (Protection, Rest, Ice, Compress, and Elevate). Here's how:
Protect the strained muscle from further injury.
Rest the strained muscle. Stay away from the activities or exercises that caused the strain and other activities that are painful.
Ice the muscle area (20 minutes every hour while awake). Ice is an exceptionally successful anti-inflammatory and pain reliever.
Compression can be tenderly applied with an elastic bandage, which can both provide support and diminish swelling. Do not wrap the muscle strain tightly.
Elevate the strained muscle to diminish swelling.
The degree of swelling or local bleeding into the muscle (from torn blood vessels) can best be managed right on time by applying ice packs and keeping up the strained muscle in a stretched position. Warm compress can be applied when the swelling has reduced. However, the early use of warmth can increase swelling and pain.
Important: Ice or Heat should not be directly applied to bare skin. Always use a protective covering, for example, a towel between the ice or heat and the skin.
While ice is a classic and viable approach to soothe muscle strains, it's not really the most effective method. Research demonstrates that topical, menthol-based analgesics are more powerful at diminishing pain, and it actually beats ice in areas like pain relief, comfort, durability and overall performance.
Because of the convenience and safety of using Topical Creams, it has become the most sought-after solution for muscle strain. In choosing a topical cream for muscle strains it must have selected fine ingredients that can help relieve the pain and inflammation and improve the recovery process of the strained muscles.
Terrafreeze™ Pain Relief Cream for Sore, Swollen and Strained Muscles
Terrafreeze™ works by penetrating deep into the skin delivering the analgesic, anti-inflammatory and rejuvenating properties of its ingredients right where it is needed.
Aside from their analgesic properties, the active ingredients of Terrafreeze™ also act as vasodilators. When applied to the affected area it causes blood vessels to extend, which increases blood circulation in the area. This brings additional nutrients to the area and can help with cellular repair. Blood brings in new nutrients to repair the area and carries away toxic waste generated. Recuperating happens a lot faster because of this.***
Arnica is known for its anti-inflammatory and pain reduction properties. Arnica also contains thymol that stimulates blood circulation and healing. Arnica works by breaking up trapped fluid from bruised tissue, joints and muscles.
Emu works by penetrating through the skin's stratum corneum barrier, allowing for easier absorption of other ingredients that come with it, making it an excellent carrier for therapeutic remedies. Emu oil can also alleviate tormenting pain because of its pain relieving and anti-inflammatory properties.
These powerful ingredients of Terrafreeze™ are formulated to work synergistically to give you immediate relief from pain and to aid the recovery process. Terrafreeze™ improves the mobility and flexibility of the affected joints, nerves and muscles without side effects.
Our Guarantee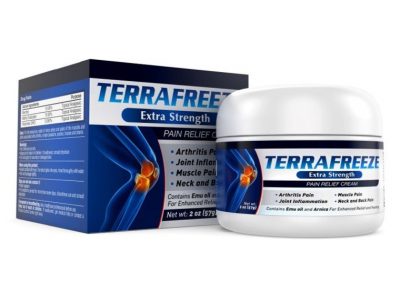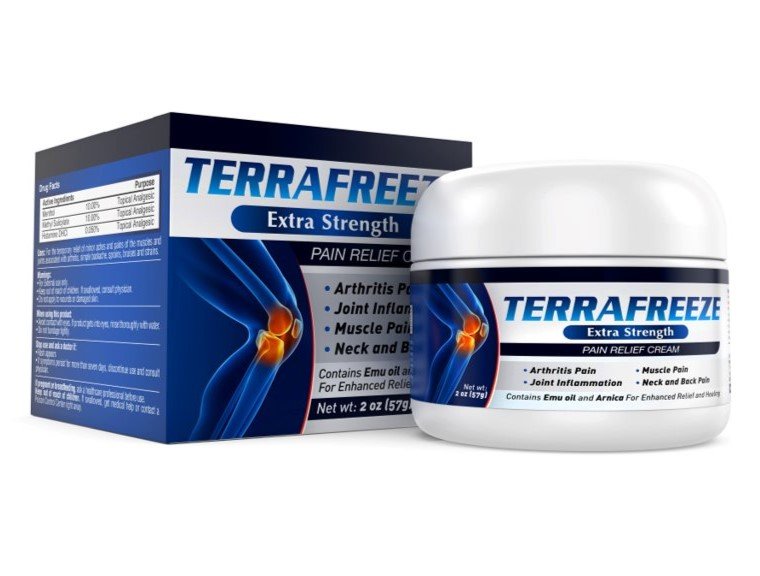 Now you can try Terrafreeze™ without any risk. Your pain is guaranteed to reduce or disappear shortly after your first application. To experience the long-term benefits of Terrafreeze™, continue to apply Terrafreeze™ daily, preferably twice a day. Use up the entire jar of Terrafreeze™ and watch your pain gradually and continually reduce or disappear altogether. If you're not completely amazed with the results, simply return the jar within 90 days for a full refund. No questions asked.
Remember, with Terrafreeze™, you have nothing to lose but pain.