TerraFreeze™​
Pain Relief Cream 2oz​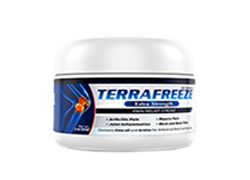 Buy 1, Get 1 FREE TerraFreeze™​ 2oz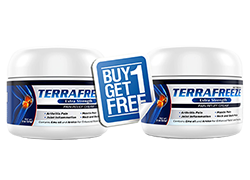 TerraFreeze™​
Pain Relief Cream 2oz (2 Pack)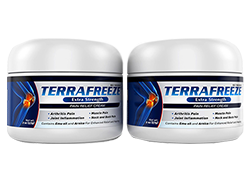 TerraFreeze™​
Pain Relief Cream 2oz (2 Pack)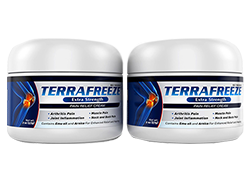 TerraFreeze™​
Pain Relief Cream 2oz (3 Pack)​​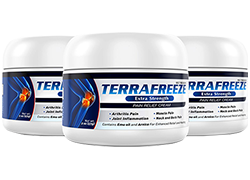 TerraFreeze™​
Pain Relief Cream 2oz (6 Pack)​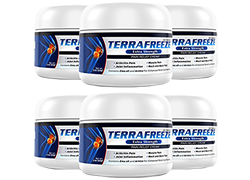 TerraFreeze™​
Pain Relief Cream 2oz (10 Pack)​​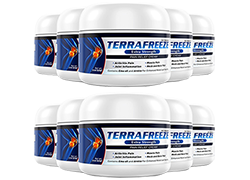 TerraFreeze™​
Pain Relief Cream 2oz (24 Pack or more)
Contact us for bulk order price
​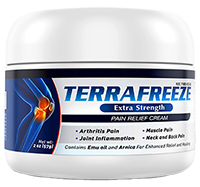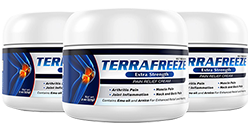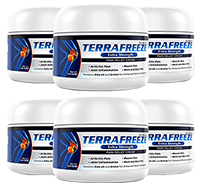 TerraFreeze™​ Pain Relief Cream 2oz​
$49.97$24.97
TerraFreeze™​​
$148.97$59.85​
TerraFreeze™​
Pain Relief Cream 2oz (6 Pack)
$298.97$107.70​​
Frequently Asked Questions
How many jars of TERRAFREEZE™ should I order?
Most of our customers enjoy taking advantage of our discounted 3-pack option. Others who wish to share the pain relief with friends and family, we recommend ordering our 6-pack option for a lower discounted bottle
Are there any known side effects?
TERRAFREEZE™ is a product made of all-natural ingredients with no known side effects. Stop use and consult a doctor if any of these unlikely but serious side effects occur: blistering, swelling, increased/unusual pain at the application site, nausea/vomiting, rash or irritation develop (especially of the face/tongue/throat), severe dizziness or trouble breathing.
How do I apply TERRAFREEZE™?
For Adults and children two-years of age or order: Apply a thin layer to the affected area 3-4 times daily.
How long before I see results?
We have put all the best ingredients to come up with the most safe and effective topical cream for your pain. The results are most instant. Some consumers have reported feeling relief as soon as their initial application, some for as short as 30 seconds! For other conditions, consumers report a noticeable improvement within days of continuous use.
Can I purchase TERRAFREEZE™ in stores?
TERRAFREEZE™ is currently available to purchase online, and will be available in stores in the future.
What precautions should I take when using TERRAFREEZE™?
For external use only. If swallowed, get medical help or contact Poison Control Center right away. Avoid contact with eyes. If product gets into eyes, rinse thoroughly with water. As with any Over the Counter (OTC) medication, if your condition persists or becomes more severe, contact a medical professional immediately. If rash appears, stop using immediately and consult a healthcare professional.
Key Ingredients
---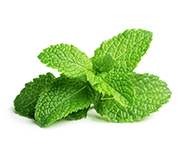 Menthol
Instantly brings cool, soothing pain relief to aching muscles and joints. Other medicinal ingredients combined with Menthol quickly start working while the increased blood flow from menthol bring their efficacy to the affected area instantly.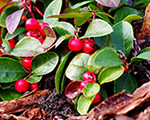 Methyl Salicylate
Methyl Salicylate is produced by many species of plants, particularly wintergreens. When used therapeutically, it makes a mild local response that gives relief at the area of pain.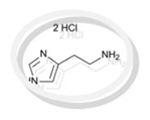 Histamine Dihydrocloride
Histamine DHCl is used for the temporary relief of minor aches and pains of muscles and joints associated with arthritis, simple backache, bruises, sprains, and strains.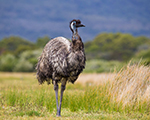 Emu oil
Because of its powerful anti-inflammatory and superior penetrating properties, Emu Oil can pass through the external layer of the skin relieving pain from arthritis, as well as muscle pains, bruises, strains and sprain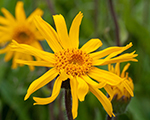 Arnica Montana
Arnica, like many plants, has antiseptic and anti-inflammatory properties. When Arnica is applied, it stimulates circulation, helping the body's own healing system react – which encourages healing.