What is Plantar Fasciitis?
Plantar fasciitis is a foot disorder that causes pain in the heel or the bottom of the foot. It's caused by the inflammation of the plantar fascia, a thick band of tissue that runs across the bottom of the foot. It is common and affects people of all ages, particularly those who are on their feet a lot. According to a current study, the general unadjusted incidence rate of plantar fasciitis is 10.5 per 1000 person-years.
What are Possible Causes of Plantar Fasciitis?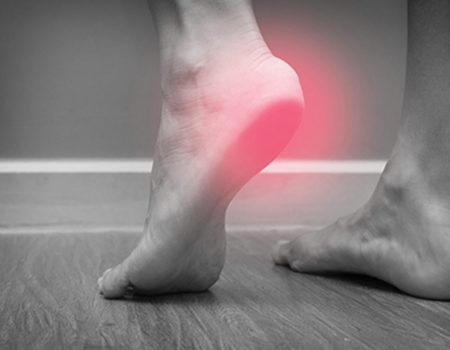 The plantar fascia is a thin, web-like ligament that connects the heel bone to the toes at the front of the foot. It supports the arch of your foot and helps you walk. When you strain your plantar fascia, it gets weak, swollen, and irritated (inflamed). This causes the heel or the bottom of your foot to hurt when you stand or walk.
Plantar fasciitis is a very common condition. Actually, maybe the only people who don't encounter it are the barefoot populations. Other than that, any individuals who stand for long periods of time at work, or other places can encounter plantar fasciitis.
Additionally, people who stress their feet running, jogging, and climbing are at risk for plantar fasciitis sooner or later in their lives. The pain of plantar fasciitis begins as a stabbing sensation in the heel or the arch of the foot, and with time, the recurrence and intensity of pain increases. Morning foot pain is a common symptom of plantar fasciitis. Initially, people experience pain in their heels in the morning, which often diminishes as the day passes and after a walk. However, the pain may return after remaining standing for a long time or getting up from sitting.
What are the available treatments for Plantar Fasciitis?
For many people, plantar fasciitis is treatable with a little rest, artificial arch support, and exercise. However, this isn't the situation with everybody, as plantar fasciitis is infamous for not going away in some people. This is the reason people with severe cases of plantar fasciitis end up managing a condition that hampers their personal satisfaction and undermines wellness and wellbeing.
Plantar fasciitis treatment includes decreasing the pain and inflammation, stretching the scarred tissue, and fortifying the foot muscles to keep the condition from intensifying. Many doctors prescribe pain medication alongside the use of non-steroidal calming drugs (NSAIDs).
Relieving Pain with Topical Medications
Pain relief medicine, for example, ibuprofen and naproxen are useful for decreasing pain and inflammation caused by plantar fasciitis. While these oral medications might be used to calm pain, topical agents might be more useful on the grounds that they provide instant relief.***
Compared with topical solutions, oral medication takes time to feel the effect as the drug needs time to be absorbed in the bloodstream before it can act on the painful area. Topical agents come in many forms including gels, salves, creams, and sprays. Rubbing a pain relieving topical agent helps in lessening inflammation and pain faster, making the torment sensations quell.***
In addition to much quicker relief from pain, Topical agents used long term have little to no side-effects. This is because unlike oral medications, topical agents that are directly applied to the affected area, do not go through the GI tract potentially causing harm to the stomach and digestive tract.***
Topical medications are ideal for addressing plantar fasciitis. Fast relief and fewer side effects ensure hassle-free results, and diminished pain enables a patient to embark on therapy exercises.
But not all topical agents available on the market can give you the relief you are looking for…
Introducing TERRAFREEZE the Best Pain Reliever for Plantar Fasciitis!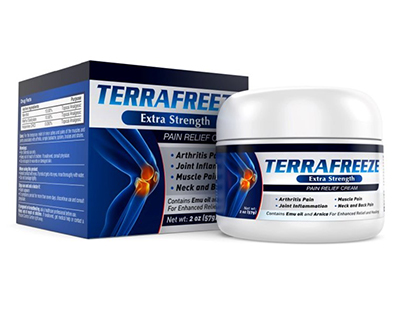 If you've suffered with heel pain or plantar fasciitis for any length of time you know how disabling the pain can be, especially that first step out of bed in the morning. You also know that heel cups, splints, boots, and crazy socks never really address the problem.
For Many People, They Have Finally Found the Solution with TERRAFREEZE.
TERRAFREEZE is the most advanced pain relief formula in the market today.
While most other pain relief creams currently on the market offer one or two active pain relief ingredients, TERRAFREEZE contains THREE powerful pain relief active ingredients: Menthol, Methyl Salicylate and Histamine DHCI. The result is a powerful and safe pain relief cream that includes a proprietary blend of Arnica Montana, Emu Oil and other botanical active ingredients in a natural base that has been clinically shown to relieve pain.***
The benefits of TERRAFREEZE for Plantar Fasciitis treatment:
Can help ease the pain and stiffness in the heel and foot***
Suitable for all Plantar Fasciitis sufferers
A safe drug-free cream that has no side-effects compared to oral pain medications***
Faster acting than oral medications***
Can be used safely with other medicines for Plantar Fasciitis and/or other medical conditions
How Does TERRAFREEZE Work?
The formulation in TERRAFREEZE has been designed to deliver all beneficial ingredients quickly and safely to the skin providing deep penetration and powerful relief when applied to target area. This process delivers the anti-inflammatory and analgesic properties of ingredients directly into the plantar fascia and joints that have become inflamed due to Plantar Fasciitis. By helping reduce inflammation, TERRAFREEZE relieves pain and reduces stiffness in the heel area.***
Aside from their analgesic properties, the active ingredients of TERRAFREEZE (Menthol, Methyl Salicylate and Histamine DHCI) also act as vasodilators. When applied to affected area it causes blood vessels to extend, which increases blood circulation in the area. This brings additional nutrients to the area and can help with cellular repair. Blood brings in new nutrients to repair the area and carries away toxic waste generated. Recuperating happens a lot faster because of this.***
Arnica is known for its anti-inflammatory and pain reduction properties. Arnica also contains thymol that stimulates blood circulation and healing. Arnica works by breaking up trapped fluid on inflamed tissue and joints giving relief to those who suffer from Plantar Fasciitis.***
Emu works by penetrating through the skin's stratum corneum barrier, allowing for easier absorption of other ingredients that comes with it, making it an excellent carrier for therapeutic remedies. Emu oil is a deeply penetrating anti-inflammatory, so using emu oil for Plantar Fasciitis means it will penetrate deep into the affected area and reduce the pain and inflammation.***
The powerful ingredients of TERRAFREEZE are formulated to work synergistically to give you immediate relief from pain and to aid the recovery process. TERRAFREEZE improves the mobility and flexibility of the affected joint, nerves and muscles without side effects.
Imagine how good you could feel without constant symptoms. Imagine waking up each morning, jumping out of bed, and NO PAIN! Imagine no more pills, no more orthopedic boots, no more socks that stretch your foot out all night, just RELIEF!
TERRAFREEZE Embrace The New You with The All in One Arthritis and Pain Reliever!
Don't let pain stand in the way of your wellness journey. Understanding arthritis and chronic pain causes and symptoms marks the first step in discovering relief.
When additional support becomes essential, TERRAFREEZE presents its arthritis pain relief cream enriched with the strength of Menthol, boasting full prescription potency in an over-the-counter pain reliever.
If you're not completely amazed with the results, simply return the jar within 90 days for a full refund. No questions asked. Remember, with Terrafreeze™, you have nothing to lose but pain. Get your supply of TERRAFREEZE now!