Are You Still Living with Back Pain?
Millions of Americans suffer from back pain. And the ones that we know, are tired of it. They are fed up with trying things that don't work. They're sick of buying items that aren't for their specific type of pain.
There are many causes of back pain. Some people develop it over time as others are injured in sports, work, or auto accidents. A large part of the population is locked behind a desk or computer all day and because most of us lead extremely sedentary lifestyles… our backs become completely compressed and our hips are inactive.
When our backs and hips are not active, they become weak, which then puts a strain on discs, nerves, muscles, and more.
Plus, starting at the early age of 19, the self-hydration function in our spine and the discs in our back steadily reduces each and every day. This means… the core of the discs can only be lubricated and fed the nutrients they need by a process called inhibition.
Signs and Symptoms of back pain:
Muscle ache

Shooting or stabbing pain

Pain that radiates down your leg

Limited flexibility or range of motion of the back
When should you see a doctor?
Most back pain can be relieved with home treatment and self-care, usually within 2 weeks. If not, you should see your doctor.
In rare cases, back pain can be caused by a serious medical issue. Consult your doctor if your back pain:
Causes bladder problems or bowel issues

Fever

The pain was caused after getting into an accident – fall, blow to your back, or other injury
While this all may sound a little scary… back posture is actually one of the most easily corrected problems you can have in your body. Correct back posture is definitely obtainable.
Back pain can sometimes be caused by daily activities, heavy and strenuous lifting, and incorrect posture.
Muscle or Ligament Strain – Repeated lifting of heavy objects or a sudden movement may strain back muscles and spinal ligaments. Constant strain on the back may also cause muscle spasms.

Bulging or ruptured disks – Discs act as the cushion between the bones in the vertebrae. The soft material inside the disk can rupture and press on a nerve, causing pain in the back.

Arthritis – Osteoarthritis can also affect the lower back. Arthritis in the spine can lead to a narrowing of the space around the spinal cord.

Skeletal irregularities – Back pain can also be caused by abnormal curving of the spine.

Osteoporosis – As we age, we are more prone to Osteoporosis. Compression on the spine's vertebrae can develop if the bones become porous and brittle.
No matter what the cause, people cope with pain differently. When you have back problems it can quickly prevent you from enjoying your favorite activities. And for some people, back problems are much worse and can discourage or prevent them from doing necessary daily activities like walking.
Terrafreeze is all you need to get rid of the pain and discomfort of back problems and go on with your daily activities and more. The powerful ingredients of Terrafreeze are formulated to work together to give you immediate relief from pain and to aid the recovery process. Terrafreeze™ improves the mobility and flexibility of the affected joints, nerves, and muscles without side effects.***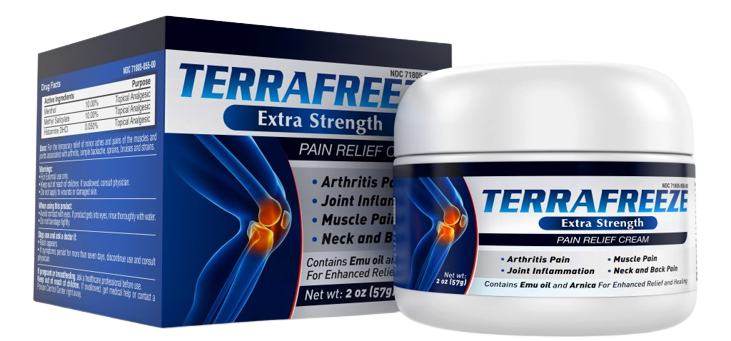 Terrafreeze is not your typical drugstore pain cream. It's that different, that effective, and completely safe, gentle, and All-natural.
If it's not everything we say it is (and a whole lot better), simply return the jar within 180 days for a full refund. No questions asked.  
Embrace The New You with the All-in-One Pain Reliever!
Don't let pain stand in the way of your wellness journey. Understanding arthritis and chronic pain causes and symptoms marks the first step in discovering relief.
When additional support becomes essential, TERRAFREEZE presents its arthritis pain relief cream enriched with the strength of Menthol, boasting full prescription potency in an over-the-counter pain reliever.