What Is Joint Inflammation?
When you think of arthritis, you think of joint inflammation. Inflammation is a process in which the body's white blood cells and immune proteins naturally react in defense to infection and foreign substances such as bacteria and viruses.
However, in certain ailments, the body's immune system triggers an inflammatory response even if there is no infection to fight off. One in particular, known as autoimmune ailment, is a condition in which the body's immune system mistakenly attacks and causes damage to its own tissues. The immune system mistakes part of your body, such as joints or skin, as foreign or abnormal.
What Ailments Are Associated With Inflammation?
Some types of arthritis but not all are the effect of misled inflammation. Arthritis is a general term that describes joint inflammation.
Types of arthritis associated with inflammation:
Rheumatoid arthritis

Psoriatic arthritis

Gouty arthritis

Systemic lupus erythematosus
What Are the Symptoms of Joint Inflammation?
The symptoms of joint inflammation include:
Redness

Joint swelling

Joint pain

Joint stiffness

Loss of joint function

Often, only a few of these symptoms are present.
It can also be associated with symptoms similar to flu including:
Fever

Chills

Fatigue/loss of energy

Headaches

Loss of appetite

Muscle stiffness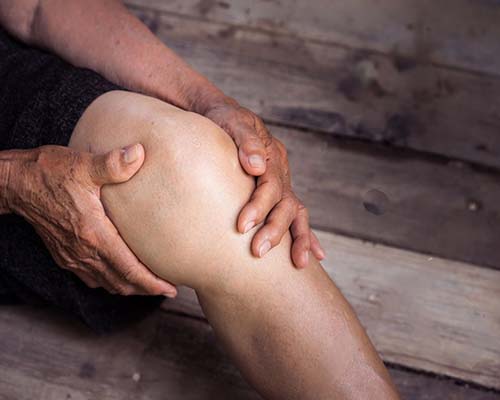 What Causes the Symptoms of Inflammation?
When inflammation happens, chemicals from the body are discharged into the blood or affected tissues. This arrival of chemicals increase the blood flow to the area of damage or infection and may bring redness and warmth. A portion of the chemicals cause a leak of liquid into the tissues that cause swelling. When swelling occurs, nerves may be stimulated and cause pain.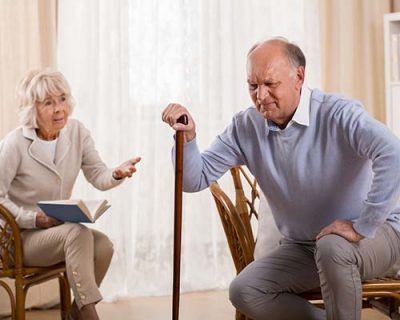 Can Inflammation Affect Internal Organs?
Internal Organs may be affected by Inflammation as part of an autoimmune disorder. The examples are the following:
Myocarditis – inflammation of the heart; can cause chest pain or fluid retention.

Bronchiolitis – inflammation of the small tubes in the lungs; may cause difficulty of breathing.

Nephritis – inflammation of the kidneys; can cause hypertension or kidney failure.

Iritis or uveitis – inflammation of the eye; can cause pain or blurred vision.

Polymyositis – Inflammation of the muscles; can cause aching and weakening of muscles.

Vasculitis – inflammation of the blood vessels; may cause rashes, headaches, or internal organ damage.
Since many organs do not have pain-sensitive nerves, pain may not be a main symptom.
How Are Inflammatory Joint Ailments Treated?
Various treatment options are available for inflammatory joint ailments including medications, rest, exercise, and surgery to correct joint damage. The treatment option prescribed will rely on several factors including the type of ailment, the individual's age, any medications the individual may be prescribed, general health, medical history, and seriousness of symptoms.
The objectives of treatment are to:
Treat the basic inflammatory problem and reduce inflammation

Relieve pain by medication, activity modification

Maintain mobility, muscle strength and overall function through physical therapy and exercise

Reduction of stress on the joints by utilizing braces, splints, or canes when needed
What Medications Are Used to Treat Inflammatory Ailment?
There are numerous medications available to diminish joint torment, swelling, and also inflammation and ideally avoid or limit the development of the inflammatory ailment. These drugs include:
Anti-inflammatory pain reliever drugs (NSAIDs — such as aspirin, ibuprofen, or Celebrex)

Corticosteroids (such as prednisone)

Other medications* include chemotherapy drugs, disease modifying treatments, biologic therapy, or narcotic pain relievers
The standard treatments for pain, for example, like prescription narcotic and non-narcotic drugs are frequently ineffective and have serious side-effects like sedation, nausea, and addiction. Taking some oral medications for a long time, for example, ibuprofen, naproxen, and acetaminophen may even result in stomach ulcers, kidney failure, heart failure, and liver failure.
Because of this, many people suffering from joint inflammation are often searching for alternative solutions to the common over-the-counter and prescription medications. Victims of joint inflammation must always consult with a qualified physician who specializes in rheumatology for the best and most current treatment alternatives for joint inflammation.
Sudden severe pain, particularly in the chest, arms, or head, or pain in any region of the body that does not resolve within 2-3 weeks, must be assessed by a doctor to be sure that the pain is not caused by other underlying medical conditions.
Relieve Pain without Harmful Side Effects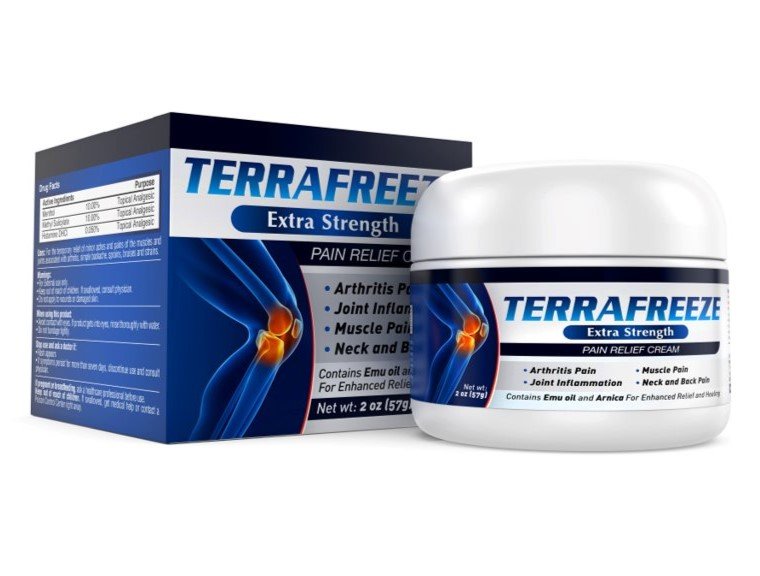 If you are suffering from pain and joint inflammation, try using TERRAFREEZE™ to improve your mobility and function, reduce inflammation and help relieve pain quickly.*** TERRAFREEZE™ is a clinically tested and advanced pain relief cream formulation created from years of thorough research and study making it the most advanced pain relief cream on the market today.
TERRAFREEZE™ is an FDA recognized, over-the-counter product that's available to you direct without a prescription, manufactured in the USA in a GMP certified and FDA regulated facility, to ensure product integrity and maximum potency.
Our unique formula combines three powerful active ingredients: Menthol, Methyl Salicylate and Histamine DHCI.  We added a proprietary blend of Arnica Montana, Emu Oil and other potent botanical ingredients like Aloe Vera Gel, Boswella Serrata Extract, Chamomile Extract, Zingiber Officinale (Ginger) Root Extract, Curcuma Longa (Turmeric) Extract, Vitamin C and Vitamin E for enhanced relief from joint and muscle pains.
The advanced manufacturing process allows TERRAFREEZE™ to penetrate deeper and faster into skin delivering the analgesic, anti-inflammatory and healing properties of all its potent ingredients into the affected area. This process brings quick pain relief and fast recovery without side-effects.
OUR GUARANTEE:
TRIPLE THE RELIEF of any comparable pain relief product, GUARANTEED or it's FREE!
TERRAFREEZE™ will deliver all of this to you, or you pay nothing:
Triple the relief from the pain of arthritis, bursitis, tendinitis, backache, muscle discomfort or other conditions, then any comparable pain relief product you've ever tried, plus…

Triple the improvement in range of motion that was previously constrained by your pain…

Triple the satisfaction in your new pain-free life as time goes by, with no diminished of its amazing pain relief!
If you feel anything less than absolutely thrilled with TERRAFREEZEE™, simply return the product within 180 days for a full refund. No questions asked.
Fair enough? Let us hear from you today!
Embrace The New You with the All-in-One Pain Reliever!
Don't let pain stand in the way of your wellness journey. Understanding arthritis and chronic pain causes and symptoms marks the first step in discovering relief.
When additional support becomes essential, TERRAFREEZE presents its arthritis pain relief cream enriched with the strength of Menthol, boasting full prescription potency in an over-the-counter pain reliever.