Are you Dealing with Rheumatoid Arthritis?
Learn More to Manage Rheumatoid Arthritis Effectively
Rheumatoid Arthritis (RA) is a long-term autoimmune disorder that primarily affects joints. It typically results in warm, swollen, and painful joints. Pain and stiffness often worsens following rest.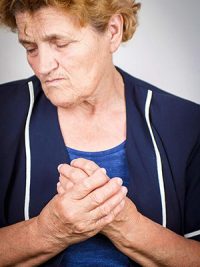 Each one is a humbling walk in pain. Arthritis literally means "inflammation of a joint."
The inflammation results in swelling, stiffness, redness and a great deal of nagging, constant pain. Any place where the bone meets bone is a potential spot for the grinding agony of arthritis. The first sign is often a twinge in your fingers, knees, shoulder or back.
What is causing that twinge?
THE CARTILAGE – THE NATURAL SHOCK ABSORBER THAT CUSHIONS THE INSIDES OF YOUR JOINTS – IS STARTING TO BREAK DOWN ONE TWINGE AT A TIME.
Doctors used to think of this gradual cartilage breakdown as a condition of old age, but now believe that osteoarthritis – the most common of about 100 different types of arthritis – begins its relentless course when you're in your 30s, 20s and even younger.
At present, doctors believe that osteoarthritis hurts more than 20 million Americans. By 2020, that number is expected to reach 40 million.
Why are the numbers skyrocketing?
Rheumatoid Arthritis Pain Treatments
While there is still is no cure for rheumatoid arthritis, over the previous decade, new treatments have developed mostly focusing on controlling the effects of RA to the immune system. Despite this, many victims of RA continue to suffer with the pain and constraints caused by RA.
The standard treatments for pain, for example, like prescription narcotic and non-narcotic drugs are frequently ineffective and have serious side-effects like sedation, nausea, and addiction. Taking some oral medications for a long time, for example, ibuprofen, naproxen, and acetaminophen may even result to stomach ulcers, kidney failure, heart failure, and liver failure.
Because of this, many people suffering from RA are often searching for alternative solutions to the common over-the-counter and prescription medications. Victims of RA must always consult with a qualified physician who specializes in rheumatology for the best and most current treatment alternatives for RA. Sudden severe pain, particularly in the chest, arms, or head, or pain in any region of the body that does not resolve after two or three weeks, must be assessed by a doctor to be sure that other medical conditions, including heart conditions, infections, are not the underlying cause of pain.
Relieve Pain without Harmful Side Effects
If you are suffering from pain and inflammation from rheumatoid arthritis, try using TERRAFREEZE to improve your mobility and function, reduce inflammation and help relieve pain quickly. TERRAFREEZE is a clinically tested and advanced pain relief cream formulation created from years of thorough research and study making it the most advanced pain relief cream on the market today.***
TERRAFREEZE is an FDA recognized, over-the-counter product that's available to you direct without a prescription, manufactured in the USA in a GMP certified and FDA regulated facility to ensure product integrity and maximum potency.
Our unique formula combines three powerful active ingredients: Menthol, Methyl Salicylate and Histamine DHCI. We added a proprietary blend of Arnica Montana, Emu Oil and other potent botanical ingredients like Aloe Vera Gel, Boswella Serrata Extract, Chamomile Extract, Zingiber Officinale (Ginger) Root Extract, Curcuma Longa (Turmeric) Extract, Vitamin C and Vitamin E for enhanced relief from joint and muscle pains.***
The advanced manufacturing process allows TERRAFREEZE to penetrate deeper and faster into skin delivering the analgesic, anti-inflammatory and healing properties of all its potent ingredients into the affected area. This process brings quick pain relief and fast recovery without side-effects.***
OUR GUARANTEE:
TRIPLE THE RELIEF of any comparable pain relief product, GUARANTEED or it's FREE!
TERRAFREEZE must deliver all this for you, or you pay nothing:
Triple the relief from pain of arthritis, bursitis, tendinitis, backache, muscle discomfort or other conditions, than any comparable pain relief product you've ever tried, plus…
Triple the improvement in range of motion that was previously constrained by your pain…
Triple the satisfaction in your new pain-free life as time goes by, with no diminishment of its amazing pain relief!
If you feel anything less than absolutely thrilled with TERRAFREEZE, simply return the product within 90 days for a full refund. No questions asked.
Fair enough? Let us hear from you today!